Ra1ncloud Fugu15-based jailbreak for arm64e devices on iOS 15.0-15.4.1 released, but still only for developers
Download Ra1nCloud Fugu 15 Jailbreak – Online
How to Build Ra1nCloud –
Instructions to follow in order to build the "ra1ncloud" tool. To begin, you need to have Xcode 13/14 14.1 installed on your device. Then, you need to import the fastPath arm certificate into your Keychain, which is a tool for securely storing passwords and keys on your device.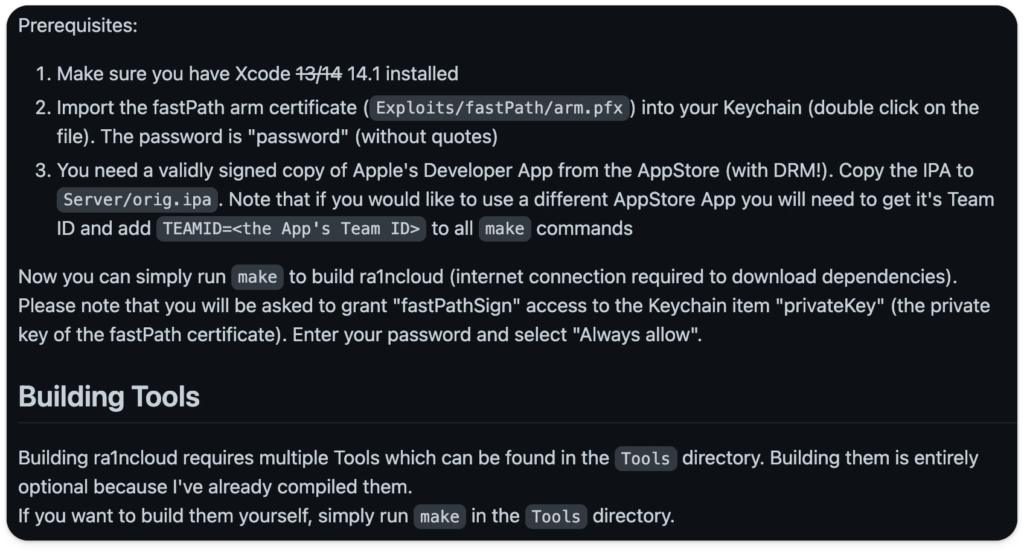 The certificate file can be found in the "Exploits/fastPath/arm.pfx" directory and the password for it is "password" (without quotes).
Next, you need to have a validly signed copy of Apple's Developer App from the AppStore, with DRM (Digital Rights Management) enabled. You should copy the IPA file of this app to the "Server/orig.ipa" directory.
If you want to use a different app from the AppStore, you will need to get its Team ID and add "TEAMID=" to all make commands.
Once you have completed these steps, you can run the "make" command to build the ra1ncloud tool. However, keep in mind that an internet connection is required to download the necessary dependencies.
During this process, you will be prompted to grant "fastPathSign" access to the Keychain item "privateKey", which is the private key of the fastPath certificate. You will need to enter your password and select "Always allow".
Hey there, in this video, YouTuber Geosn0w talks about the release of a new jailbreak called "Ra1ncloud" for iOS 15.4.1 and lower. This new jailbreak is semi-untethered and permanently signed, which makes it a great choice for people who want to jailbreak their device.
The developer, JohnDoe123, has posted a release of this jailbreak, which is still in early development. However, the project looks promising and is currently being developed further.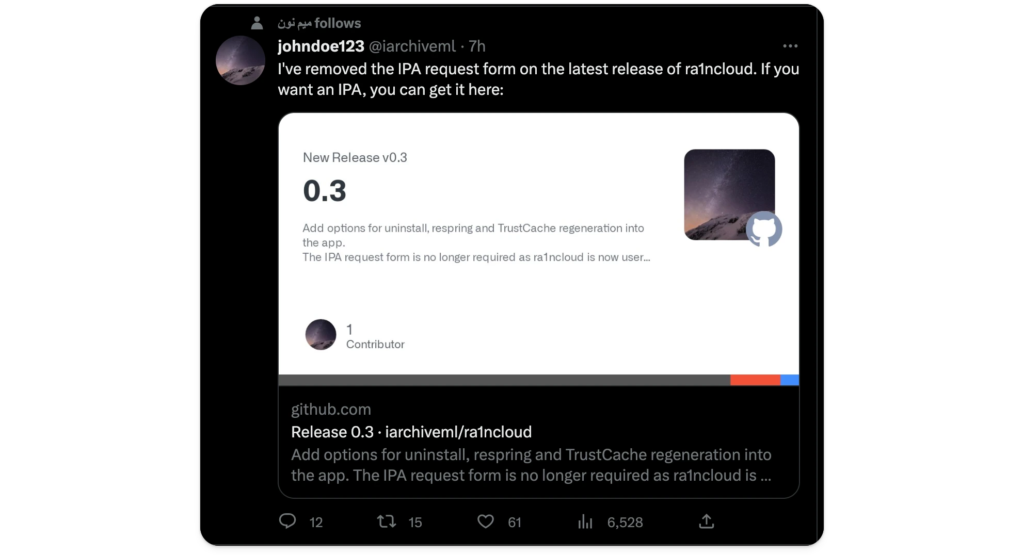 The jailbreak is based on the Fugu15 base, released in November 2022, and works on iOS 15.4.1 and lower.
The code posted by Linus Hansi(Fugu15 Developer) contains a kernel exploit, a code-signing bypass, a kernel PAC bypass, and even a PPL bypass. You can install this directly from Safari, making it easy for users to download and use.
One thing to note is that this code base did not come with tweak injection, so it wasn't beneficial for the general public. However, it appears that the developer has taken the project and is building a jailbreak on top of it, which will support tweak injection.
The interface for this jailbreak looks promising and appears to be easy to use. Once you press the jailbreak button, you are basically jailbroken.
It's still unknown whether this jailbreak will support tweak injection, but the developer has mentioned that they are trying to add it.
The FAQ page on the Rain Cloud website says that they will never add support for tweak injection. However, this was copied straight from the Fugu 15 website, and the developer did not modify the FAQ page. Therefore, it's possible that they are trying to add tweaks as well.
Compared to other jailbreaks like Checkra1n or Unc0ver, this jailbreak is meant for all devices, including newer ones like the iPhone 13, 14, 11, and 12. When completed, it will support iOS 15.4.1 all the way down to iOS 15.0, making it an excellent option for those on older iOS versions.
In conclusion, the Rain Cloud jailbreak is an exciting development for those who want to jailbreak their devices. It's still in development, but the interface looks promising, and it will support all devices, including newer ones. If you have an iOS device running version 15.4.1 or lower, keep an eye on this project as it progresses.
Related Articles – Learn More How to install Ra1ncloud Jailbreak