Apple's latest iPhone 13, 13 Pro is faster than iPhone 12. Apple compared the speed of the New A15(iPhone 13 & 13 Pro) processer with the old A14(iPhone 12) processer. Because they are released the most competing smartphones to the world. 
Apple is willing to present the A15 as something wonderful and super powerful. It is pretty clear because a week after the presentation we already know clearly how much faster A15 is compared to an A14.
If we are going to grasp anyway, why not tell us frankly and clearly from the start? – Power charts and technical comparisons are getting more and more ridiculous in Apple presentations.
Now, thanks to Patrick Holland at CNET , we can see that the A15 is 10-15% faster than the A14 a year earlier.
This is why Apple hide it during the presentation; The speed jump this year is not as wide as in previous generations of the iPhone. 15% faster is fine, but you probably think it doesn't look good in marketing owing to it doesn't seem much faster.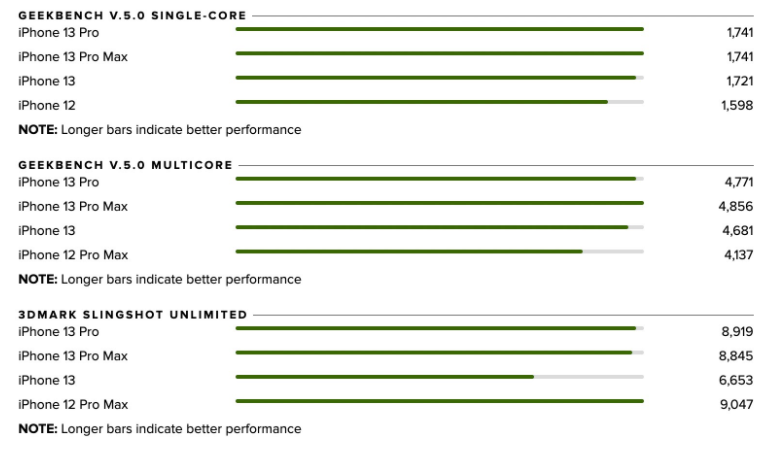 As you can see in these Geekbench graphs, in the graphical tests the iPhone 13 Pro or Pro Max is much faster than the iPhone 13. thanks to that extra GPU core that the A15 has in these terminals.
As for the CPU, we can see that 10 to 15% more speed, which is very good and it is sure that it is much faster than the competition, but that we would have liked to see in the presentation so that we can understand what is what they are presenting us exactly, beyond grandiose adjective.
Also, check out:
How you define "Trusted Contacts" – iOS 15
What is Jailbreak, Types Of Jailbreak